---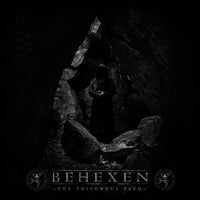 Nomen est omen... the infected new release from Cvlt Finnish horde BEHEXEN delivers nothing but authentically putrid and truly insane Black Metal.

"The Poisonous Path" is a raging beast, a monstrous work straight from the hell-depths which distils a deeply mephitic climate into an addictive poison.
The production is massive, the riffing intense, the atmosphere suffocating and the melodies vicious and bewitching – pure dark sonic alchemy.

Well worth the wait, the fifth album from this superior Satanic horde commands respect: having forged their own amazingly impure path over the years, today they are at the height of their unholy Art and comfortably seated on the throne of Devilish Black Metal!

BEHEXEN, the infernal sovereign, has never been so impressive and "The Poisonous Path" is their preeminent offering to date.